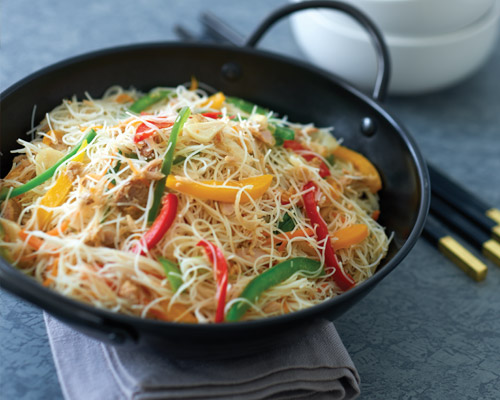 Serves 4-6
Prep Time: 20 mins Cook Time 15 mins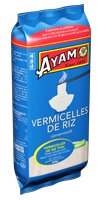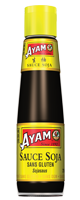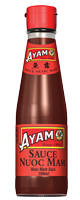 Ingredients:
1 can Chunks Tuna in Olive Oil (with oil)
1 packet AYAM Vermicelli, soaked for 5 mins (not too soft) and drained
1 each of red, green and yellow peppers, finely sliced in strips
2 red onions, finely sliced
8 cloves garlic, finely sliced
4 stalks spring onions, finely sliced in strips
1 carrot, finely sliced in strips
Oil for cooking
Seasoning:
2 tbsp AYAM soya sauce
AYAM Fish sauce to taste
3 tsp white pepper powder
Calamansi limes cut in half and fried shallots to serve (optional)
Method:
Step 1. Heat 50ml oil in a wok and fry onion and garlic till fragrant, add in tuna with olive oil and fry for another 3 minutes. Add in carrot and fry for 1 minute.
Step 2. Pour in 300ml water followed by the seasoning ingredients and bring to boil. Stir in the meehoon and cover to simmer for 5 minutes. Uncover and stir fry till meehoon is just cooked and all liquid has evaporated, add in peppers and seasoning to taste.
Step 3. Serve hot with a squeeze of calamansi lime and some fried shallots.