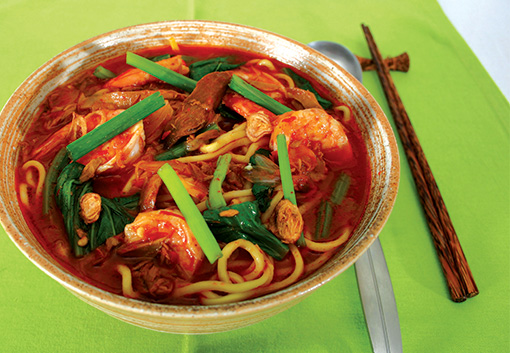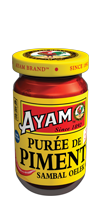 INGREDIENTS
250g Ayam Yellow Noodle
3 tbsps oil
1 can 185g Tuna, flaked
100g prawns
220g Tomato Sauce
400 ml water
Salt and pepper to taste

Ground ingredients
1 large onion
3 cloves garlic
50g dried shrimps*
3 tbsps Ayam Chilli puree**

Garnishing
3 stalks mustard greens, blanched and cut into 1.5 inch
2 stalks spring onion
1 tbsps fried shallots
1 fried egg (optional)
Preparation
Heat oil in a pot. Stir-fry the ground ingredients until fragrant. Add in Tuna and stir fry briefly. Add in prawn. When the prawn are lightly cooked, add water and tomato puree. Season to taste. Once boiling remove from heat.
Prepare Yellow Noodles according to instructions on the packet, drain, place in serving bowls.
Pour the gravy onto noodles. Garnish and serve hot.
* Can be found in Asian food shop.
** Ayam Chilli puree is very spicy