Serves 4
Prepartion time: 20 minutes
Cooking time: 5 minutes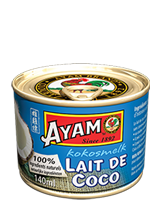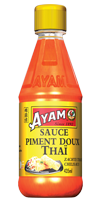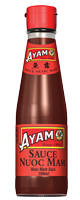 INGREDIENTS
200g AYAM rice noodles
600g cooked medium praws
1 small mango
1 large cucumber
8 radishes
2 green onions
100g sugar snap peas
½ cup sliced mint
Coconut dressing
140ml can AYAM Coconut Milk
1 ½ tablespoons AYAM Thai Sweet Chilli sauce
1 ½ tablespoons AYAM fish sauce
1 teaspoon grated green ginger
1/3 cup lime juice
Preparation
Prepare noodles according to instructions on the packet, drain and rinse under cold water.
Peel and devein prawns. Peel, seed and slice mango. Thinly slice cucumber, radishes and onions.
Combine noodles, prawns, mango, cucumber, radishes, onions, peas and mint in a large bowl.
Add coconut dressing, toss to combine.
For the coconuts dressing: Combine all ingredients in a bowl, whisk until combined.