Serves 4
Prepartion time: 15 minutes
Cooking time: 6 minutes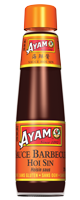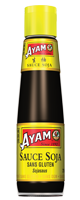 INGREDIENTS
1 teaspoon ground black peppercorns
½ teaspoon salt
2 cloves garlic, crushed
1 tablespoon vegetable oil
12 lamb cutlets
SALSA
¾ cup finely chopped pineapple
2 tablespoons finely chopped shallots
1 tablespoon finely chopped coriander
1 ½ tablespoons finely chopped mint
3 tablespoons AYAM Hoi Sin Sauce
2 tablespoons AYAM Soya Sauce
1 teaspoon rice wine vinegar
Preparation
Step 1. Combine pepper, salt, garlic and oil, spread over lamb. Grill, fry or char-grill 3 minutes on each side or until cooked as desired.
Step 2. For the salsa: combine pineapple, shallots, coriander, mint, Hoi Sin Sauce, Soya Sauce and Vinegar.
Step 3. Serve the salsa with lamb cutlets.