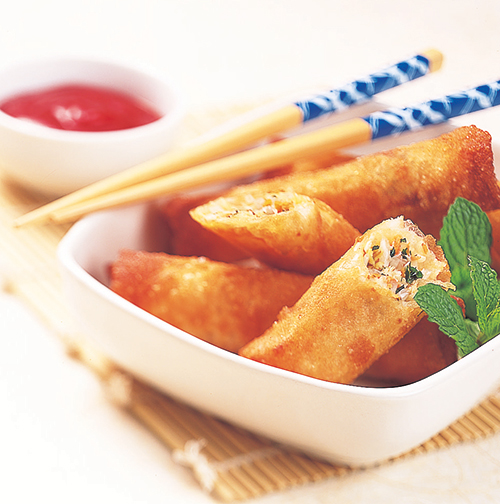 Serves 8
Preparation time: 30 minutes
Cooking time: 8 minutes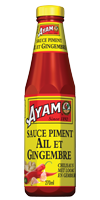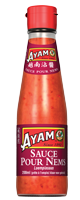 INGREDIENTS
170g Crab meat
3 teaspoons of AYAM Oyster sauce
3 teaspoons of AYAM Chili sauce (Garlic)
100g beansprouts
1 carrot, coarsely grated
2 tablespoons chopped mint
2 tablespoons chopped coriander
8 sheets of rice paper
750ml vegetable oil
AYAM Nems sauce
AYAM Thai Sweet Chili sauce
Preparation
Step 1. Combine crabmeat, oyster sauces and the chili sauce (garlic), soy sprouts, carrots, mint and coriander in a bowl.
Step 2. Spread rice paper sheets and placed 1/8 of the stuffing, made in Step 1, on a corner of each sheet. Roll as show in the picture. Wet the rice paper lightly for a well closed roll.
Step 3. Heat oil in large nonstick wok and bake the rolls by 4 during 4 minutes. Drain rolls on a non-absorbent paper.
Step 4. Serve with the nems sauce and the sweet Thai chili sauce for dipping.