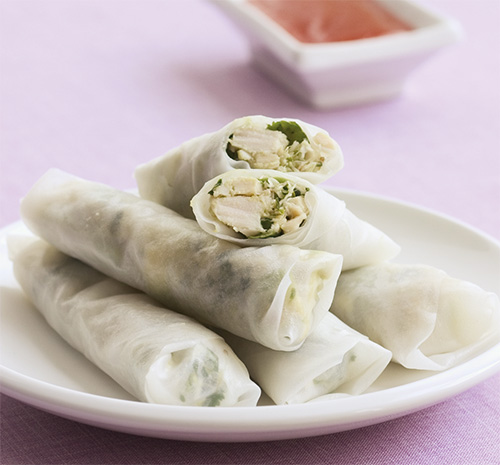 Makes 12
Preparation time: 30 minutes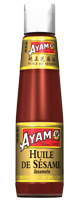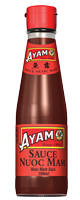 INGREDIENTS
1 cup chopped barbecued chicken
1 avocado chopped
1 cup alfalfa sprouts
2 teaspoons grated ginger
1/3 cup roughly chopped coriander leaves
1 teaspoon AYAM Sesame oil
1 tablespoon AYAM Fish sauce
Grated rind of 1 lime
1 tablespooon lime juice
12x17cm square rice paper sheets
1/3 cup AYAM Thaï sweet Chilli Sauce
Preparation
Step 1. Combine chicken, avocado, alfalfa, ginger, coriander, sesame oil, Fish sauce, lime rind and lime juice.
Step 2. Soak a sheet of rice paper in hot water 30 seconds or until softened, remove carefully onto a clean tea-towel with a corner facing towards you.
Place 2 tablespoons of chicken mixture horinzontally across the center. Fold the corner over to enclose the filling then roll up firmly, tucking in the side corner as you go. Repet with remaining rice paper and filling.
Step 3. Serve with Chilli sauce for dipping.