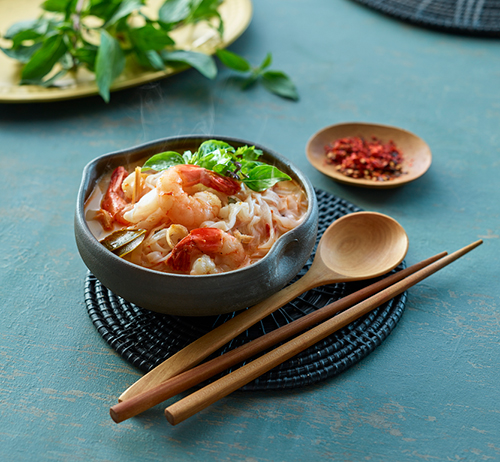 Serves 2 persons

INGREDIENTS
1 AYAM™ Tom Yam Noodles Organic Kit that contains :
1 sachet of rice noodles
1 sachet of coconut milk
1 sachet of aromatic herbs
1 sachet of tom yam seasoning
1 sachet of chilli paste
1 extra sachet of ground hot chilli pepper
200g of prawns or meat, according to your wishes
200ml water
METHOD
Cook rice noodles in boiling water for 4-5 minutes (or until slightly soft in the middle).
Rinse the noodles with water.
Mix 200ml of water with the coconut milk and bring to boil. Add the aromatic herbs and boil for about 2-3 minutes.
Add about 200g of the meat of your choice or prawns and boil until cooked through.
Add tom-yam seasoning and mix well.
Add the chili paste and mix well.
Serve noodles in bowls and pour tom-yam soup over them.
For a very spicy dish, sprinkle with ground hot pepper.