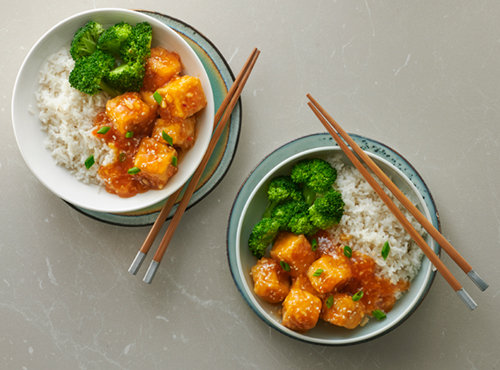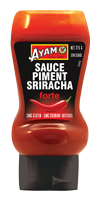 INGREDIENTS
Tofu
4 tablespoons of cornstarch
2 tablespoons frying oil
1 tablespoon sliced green onion
2 teaspoons of toasted sesame seeds

For sweet and spicy sriracha sauce :
1 cup water
1 tablespoon AYAM™ soy sauce
4 tablespoons granulated sugar
2 tablespoons AYAM™ Sweet & Salty chili sauce
2 cloves garlic, peeled and minced
1 tablespoon AYAM™ Sriracha chili sauce
1-2 tablespoons of cornstarch
1-2 tablespoons of water
1 teaspoon of toasted sesame seeds
METHOD
Slice the block of tofu into cubes.
Sprinkle cornstarch over the tofu and gently toss until evenly coated and no powdery spots remain.


For the sauce :
Add water, soy sauce, sugar, sriracha chili sauce, sweet and salty chili sauce, and garlic in a small sauce pan and bring to a boil.
In a small bowl, mix 1-2 tablespoon of cornstarch with 1-2 tablespoon of water together.
Pour the cornstarch mixture into the bubbling sauce and whisk well.
Reduce heat as needed and continue to cook another minute or two until the sauce thickens. Remove from heat and set aside.


For pan-fried tofu:
In a pan, add 2 tablespoon frying oil.
Once the oil has evenly heated, add the tofu and let the first side sear for about 6 minutes so a nice even crust forms. Once perfectly golden, flip each tofu nugget to the other side and sear for about 4-5minutes.
Remove from pan and allow to drain on a paper towel.
Add the sauce to tofu just before serving.