Recipe made by Karine Gaulier - Coups de Food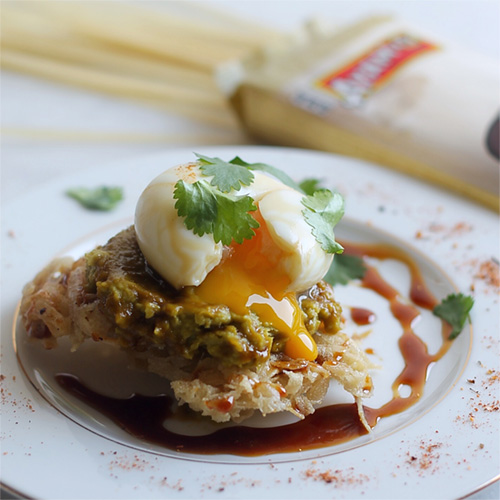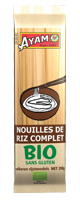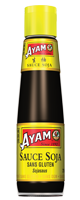 INGREDIENTS for 1 person:
40g AYAM™ Organic rice noodles
250ml grape seed oil
2 tablespoons AYAM™ Soy Sauce
3 tablespoons of sugar
1 egg
480g canned or frozen peas
few drops of AYAM™ coconut milk
Olive oil
Salt / Pepper
Herbs
METHOD
Start by cooking the rice noodles in boiling water with oil for 7 minutes. Once cooked, place under cold water, drain and set aside on a paper towel.


Cook the soft-boiled egg in simmering water for 6 minutes (no more, no less) with a little salt or vinegar. After cooking, leave the egg in cold water until it is time to peel it carefully.


For the cream of peas:
Rinse and drain the peas. Mix them with few drops of olive oil, season with salt and pepper and add few drops of coconut milk. Set aside in a cool place.



Fry the noodles in 250 ml of oil in a deep fryer or in a saucepan, turning them with a fork to form a nest.
Plunge them into a very hot oil for 2 minutes on each side. Put aside on absorbent paper.



To make the soy caramel:
Add 3 tablespoons of sugar in a saucepan with a trickle of water and let the caramel set very gently to obtain a blond caramel.
Be careful that the caramel should be blond and not brown. When the caramel forms, add 2 tablespoons of soy sauce and stir with a wooden spoon until it has the consistency of a caramel (syrupy, coating sauce). Remove the caramel from saucepan.



Assembling the plate:
Put 3 dots of pea cream in the centre of the plate to fix the nest.
Place the noodle nest on top, place your pea cream, add the egg delicately in the centre on top of the cream and come to coat with caramel on top and all around the plate.
You can add fresh mint or coriander herbs that blend perfectly with all the other ingredients.