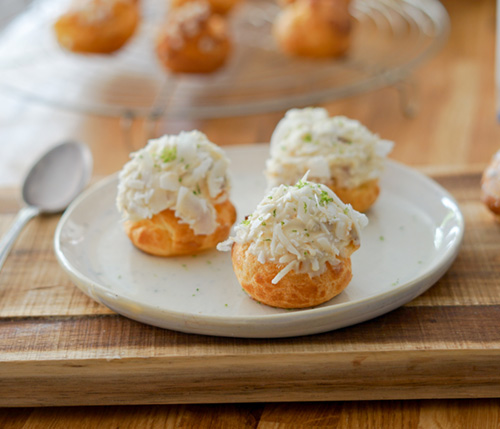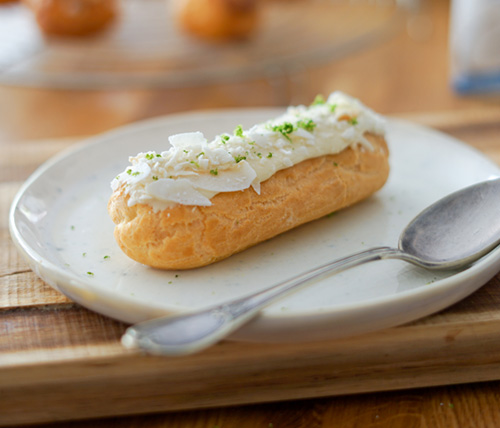 Recipe made by Céline Rivier - Les Pépites de Noisette
Blog : https://www.lespepitesdenoisette.fr/
Youtube : https://www.youtube.com/c/LespepitesdenoisetteFrench?sub_confirmation=1

Preparation time: 40 minutes
Cooking time: 25 minutes
Rest time: 2 hours minimum
For 20 - 30 puffs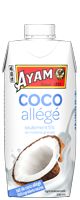 INGREDIENTS:
For the coconut cream:
AYAM™ low-fat coconut milk
4 egg yolks
50g sugar
30g of cornstarch
10g butter
20g grated coconut
1 lime
25cl of 35%MG liquid cream
For puffs pastry:
125ml of water
125ml AYAM™ low-fat coconut milk
4g of salt
8g of sugar
100g of butter
150g flour
4 eggs
3 tablespoons of granulated sugar
2 tablespoons grated coconut
METHOD
Preheat the oven to 200°C.
Prepare the puffs: boil the water with coconut milk, butter, sugar and salt.
Remove from the heat. Add the flour and mix. Put back on low heat to slightly dry the dough by mixing.
Remove from the heat and add the eggs 1 by 1, mixing well between each addition.
Form your puffs using a piping bag (or two teaspoons) and spread them on a baking sheet covered with baking paper.
Sprinkle with granulated sugar. Bake for 20 to 25 minutes. Let cool.
Prepare the coconut cream: heat the coconut milk in a saucepan.
Mix the sugar with the sifted cornstarch.
Whisk the egg yolks with the sugar and then pour the hot milk on top, while continuing to whisk.
Return the mixture to the heat and stir until it thickens.
Stir in the butter, grated coconut and lime zest.
Film on contact and store in a cool place for at least 2 hours.
Whip the cream into a firm whipped cream. Mix it delicately with the cooled coconut cream. Taste and add a little sugar if necessary.
Cut the puffs and fill with the coconut cream. Sprinkle with icing sugar and add a zest of lime.
CHEF'S TIPS
Instead of lime, you can add chocolate chips for a stracciatella effect!
If you don't have any granulated sugar, bake your puffs plain. Then melt 150g of white chocolate, dip the puffs heads in the chocolate and sprinkle with grated coconut.